Fine Design Interiors' Goals
Design interiors that meet the needs and lifestyles of our clients.
Ensure that the design process is both streamlined and enjoyable.
Embrace the spirit of island living.
Honor the environment in which we live.
Shirley Wagner, ASID
Shirley Wagner, ASID, Principal Designer and Owner of Fine Design Interiors, has worked on residential and commercial interior design projects throughout the Hawaiian Islands, the Mainland and the Caribbean since 1987. Her designs have been both widely published and recognized over the years. She has received numerous awards including three ASID awards in 2007 and again in 2009 for the renowned Hawaii architect Charles Dickey Historic House in Honolulu. Most recently, she has received two awards in 2010 for the Hokulia Resort Residence and again in 2011 for the Modern Minimalist Beach House.
Her ability to listen to the client's wishes and then skillfully select architectural materials, forms, furnishings, colors, textures and art results in beautiful interiors. Tastefully blending all design elements together Shirley creates, with her client, a sanctuary for living.
Diane Bobek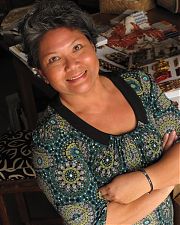 Diane Bobek joined the Fine Design Interior team in 2000. Prior to joining, she was a sought after design consultant for both commercial and residential spaces, and her design sense complements Fine Design Interiors.
Diane comes with an extensive background in retail and merchandising, and brings a keen appreciation of textures and colors to the Fine Design Team.
She is inspired by art, architecture and beauty of the natural world, combining these elements into lines, patterns and colors in her designs. Diane enjoys collaborating with clients creating a variety of design styles and concepts bringing the unexpected touch into each space.