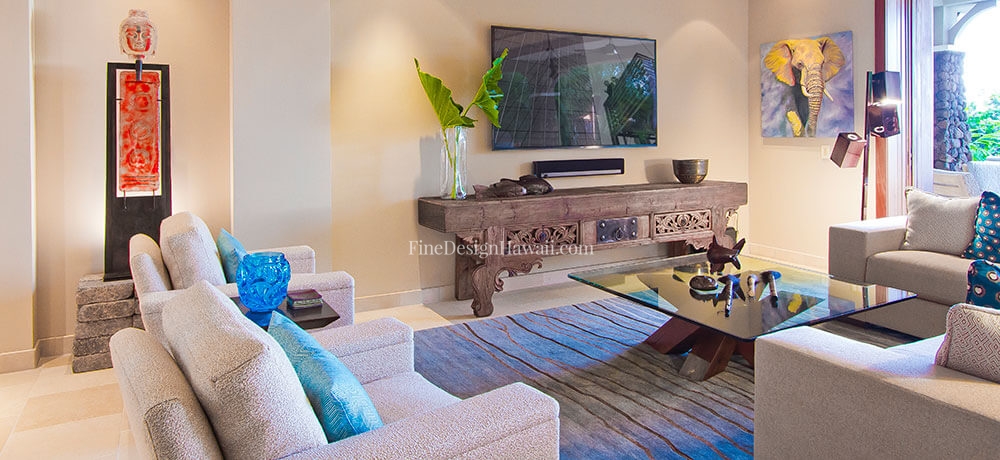 Fine Design Interiors provides full-service interior and sustainable design services across the U.S. and beyond. Regardless of client or project location, we provide the same level of personalized service. It's part of our aloha spirit. We're happy to collaborate with you by phone, video conferencing, e-mail, and site visits based on your preference and needs.
Services
Design concepts, floor planning, furnishings, interior finishes and turnkey furnishes (kitchen, linens, kitchen and tableware, etc.)
Expertise and Resources
Multiple Residences — If you have multiple homes and/or vacation rentals, we are here to help. For your personal home or vacation rental we also do complete turnkey furnishes.
Hawaiʻi-based Resources — Fine Design Interiors has been doing business in Hawaiʻi for more than 25 years and has relationships with showrooms, craftsman, artists, galleries and hidden design gems. We can help you with furnishings and materials in the Hawaiian Islands and have extensive knowledge about design trends of Hawaiian culture and lifestyles.
Furnishings — We provide a variety of options to fit your personal style and space, including beautiful custom designed furniture created by craftsman in Hawaiʻi and/or the continental U.S. For sustainable options, see our DesignAlive Furnishings™ .
How We Work
Step 1: Introductory call/meeting to determine client design needs  Request an Introductory Call or Meeting 
Step 2: Design consultation, an approximately one hour visit – in person or virtual – to your home/residential site for an initial design assessment.
Fee: $350 – $500. If you engage Fine Design for a project, this fee will be applied to the first invoice you receive from us for design hours.
Step 3: Scope of work
Step 4: Letter of Agreement and deposit to retain services
Step 5: Collaboration with you based on your design project