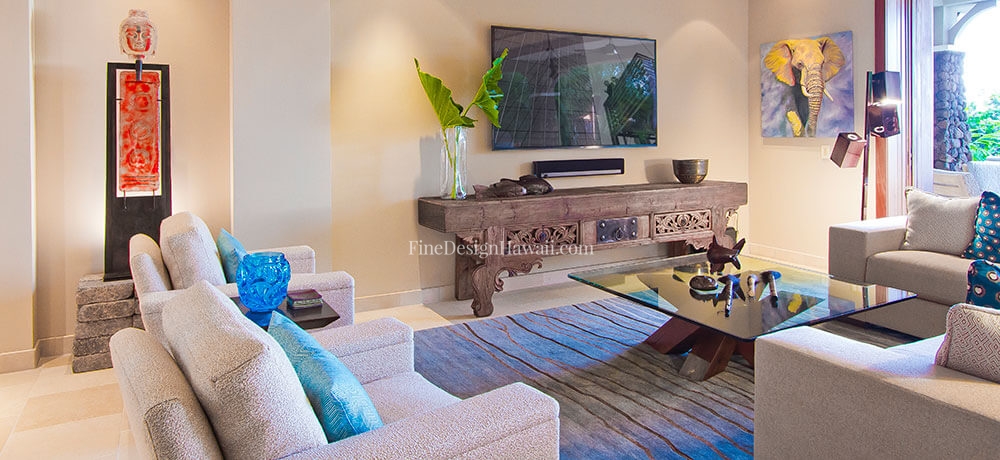 What We Do
Fine Design Interiors offers full-service interior design in Hawaiʻi, across the continental U.S. and beyond. We provide interior design services for projects ranging from remodels and new construction to turnkey vacation homes.  If you haven't already done so, please check out our portfolio and reviews and meet Fine Design's owner and principal designer Shirley Wagner and our design team.
Because we've been doing business in Hawaiʻi for more than 30 years, we have relationships with showrooms, craftsman, artists, galleries and hidden design gems that enable us to create interiors that incorporate local and Hawaiian design. Our range and style expertise extends far beyond Hawaiʻi from vintage and refined rustic, to elegant high style and luxury eco-friendly, to healthy sustainable and island sophisticated design.
When to Hire Us
The earlier you consult with us, the better. Though you may have a clear vision for your project, we can help clarify the path forward and work with your independently hired service providers such as architects and/or contractors. Not only does this early coordination create a smoother process, it also can reduce your costs overall. (See the 5 Great Reasons to Work with a Design Professional.)
Our consultation fees begin at $500. If you engage Fine Design for a project, this fee will be applied to the first invoice you receive from us for design hours accumulated on your project.
What You Can Do in Advance
Collect ideas and samples of looks, styles, and colors that you like/love/crave by taking magazine cuttings or creating Pinterest Boards to share with us.
Decide whether you want to keep/use any of your existing furnishings, materials, finishes, accessories, and/or appliances.
Have an idea of your budget. We can help you determine what is realistic for your project, but it's important for you to know the range you're comfortable with and openly communicate it with us so that we can find appropriate solutions for your design needs.
Our Process
Our work together typically will include these basic elements:
Initial Call/Email Inquiry
'How We Work' document outlining working with us
Consultation appointment
Initial consultation at your home or via video conference
You receive the following: Letter of Agreement (LOA), Scope of Work containing the design tasks necessary to complete your project, and a project retainer request
Once your signed LOA and retainer are received, the design process on your home begins!
Fees and Billing
Along with our 'How We Work' document and 'Letter of Agreement' you will receive a detailed schedule of fees. Here are the basics:
Monthly Invoices – Design Hour Billing and Miscellaneous Charges

Sent by email for easy tracking of your project's progress.
Design billing and local travel are charged hourly for transparency of charges. Details of tasks completed are included with each entry.
Merchandise Purchases

Before any purchases are made on behalf of your project, you'll receive via email a Design Sales Proposal.
A Shipping Retainer Request is also sent to you along with all proposals. The cost of shipping to Hawai'i is always a surprise to clients, and we try our best to set realistic expectations for you. In our professional experience, packing, shipping, ocean freight, delivery and white glove installation in your home tends to be more than 20% of the cost of the goods themselves.

Payment
Payment is easy. Pay by credit card or bank draft online by clicking on a link in the electronic invoice, or send a check.
Office Hours
Monday through Thursday: 9:00 AM to 5:00 PM
Friday: By Appointment