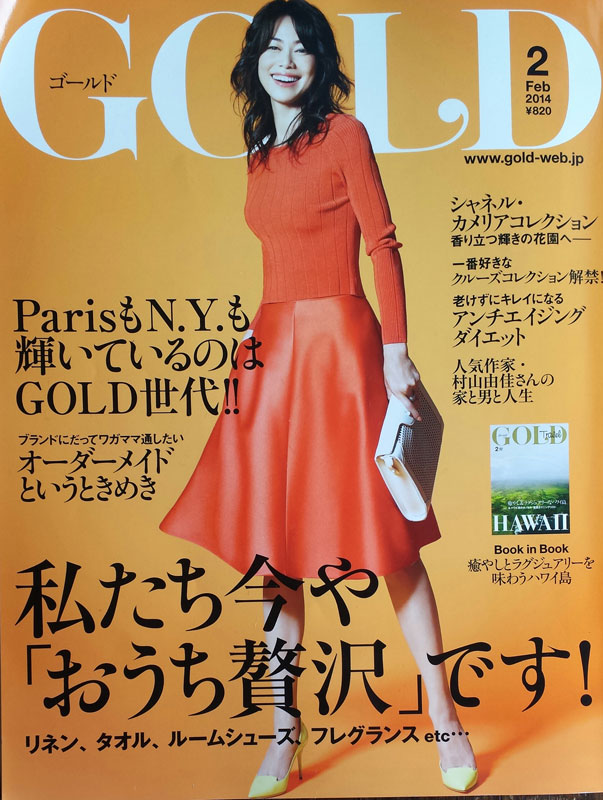 We are so very thrilled to be exhibited in the Japanese travel magazine, GOLD! Here is a loose translation of the interview with Fine Design Interiors owner, Shirley Wagner.
Enjoying The Enchantment of the Big Island on Kohala Coast
February 2014
Shirley Wagner
Shirley Wagner is the owner and lead designer of Fine Design Interiors. Her main office is on the Island of Hawaii, however, she often works extensively in the mainland.
Q: What makes you attracted to the Big Island?
A: I've lived on Hawaii Island for 20 years and I especially love the view of the Kohala Coast. Luxurious homes built in the vast nature is a beautiful sight, exclusive to our Island. There is also many opportunities for Interior designers here and I enjoy the challenge.
Q: Which resort spot on Kohala Coast do you recommend?
A: My favorite resort is the Four Seasons. The service there is wonderful and one can relax thoroughly. As for resort restaurants, I particularly enjoy the beachside view at Mauna Kea's Manta along with the unique health conscious flavors of Brown's at the Fairmont Orchid.
Q: Please tell us how you spend the holidays?
A: I often spend the holidays with family and friends. We especially enjoy outdoor activities such as water sports and hiking as well as a bi-weekly yoga class at Mauna Lani Bay.
Q: Are there any special spots where you get inspiration?
A: Hawaii Island's volcano craters are very special to me. I get passionate and creative energy from Hawaiian goddess Pele, who lives at the crater Halemaumau. I have a photo of the crater by local artist Lani Yamasaki, so I can often look to the crater for inspiration.
Q: Could you tell us about your work schedule?
A: This year I will be working on the renovation of Merriman's Restaurant in Kamuela which will be completed in the fall. My dream is to build a "healthy house" using organic materials safe for the health of our clients and the environment.