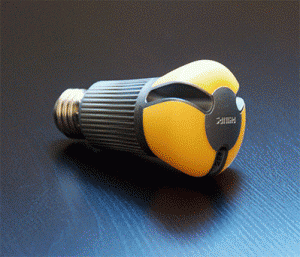 The Ultra eco-friendly PHILIPS Ambient LED 12.5 Watt Light Bulb
Why we love it? The PHILIPS new LED light bulb is a break through in the realm of sustainable lighting. This mercury free, 12.5 watt bulb uses 47.5 less watts than a standard 60 watt bulb, deeming the light bulb to be one of the most energy-efficient, eco friendly bulbs ever produced.
The cost to run it for 25,000 hours is $34.50, which is $130 less to run than a standard incandescent bulb. Other than the futuristic, stylish appearance, the light bulb acts like a modern standard bulb with dimmable qualities, a quiet instant on and excellent light quality. With proper care, the bulb can last for decades saving money, using less energy and increasing our impact of living responsibly.