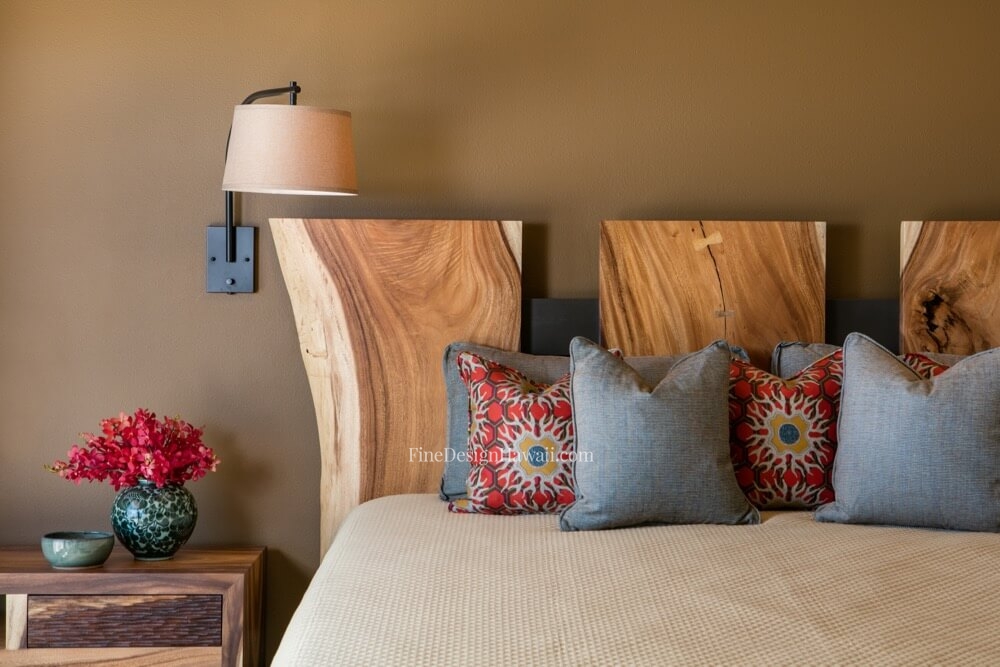 One of the best parts of our work is creating beautiful, local and sustainable furnishings for – and with – our clients. It's an opportunity not only to create a custom piece, but also to share an experience and story that stays with us and our clients for many years. Pieces with character are conversation starters. They almost beg to tell a story.
The headboard of this gorgeous bed pictured above is a great example.
Design inspired by natural beauty
From the beginning, the wood itself really shaped the piece. When the client and our designer selected the wood slab at Kamuela Hardwoods their design concept immediately began to evolve. They chose monkey pod, the most widely available sustainable wood in Hawaii, and more durable and termite resistant than koa.
Inspired by the wood's natural beauty, they worked closely with the fabricator to produce a unique piece. From the size and cut of the slab to the decorative butterfly (which helped to maintain the live, organic edge of the piece), the team collaborated to highlight the natural integrity of the wood. The result was a handsome headboard that distinctly reflects and respects the natural resources of our local environment.
More accessible than you think…
Custom crafted pieces like this are actually more accessible than you might think. Our relationships with local artisans help us to get beautiful, affordable pieces with a four-week lead time. But it's the artisans and wood workers themselves who make the materials available by sourcing locally sustainable wood, e.g., a variety of woods from fallen trees and older trees, pieces left over from other projects, and even broken pieces from other furniture.
Each time a piece of wood is re-used or repurposed, it generates an even more richly layered story. Something that combines the land and the people. And, for a home in Hawaii that feels just right.