Art enables us to find ourselves and lose ourselves at the same time."

— Thomas Merton, No Man is an Island
Art has the power to connect us to ourselves and can be the key to creating a beautiful home. Yet for some the idea of selecting or incorporating the "right" piece or pieces can be intimidating. Our tip: unless you're comfortable living in a museum, the best approach is to work with your art to make a space your own. Use it to reflect your personal aesthetic, interesting life experiences, or an intentional theme or mood. Elevate your space to the highest expression of you.
As interior designers, we love helping our clients bring art to the forefront of their environment (rather than treating art as an afterthought). It's an amazing design experience with a range of creative opportunities. Art can:
Create a focal point
Add a dramatic dash of color, or define an entire palette
Provide texture or create a layering effect
Pull together a room/space and add polish
Bring a sense of flow and movement
Make a room feel cozier or create a sense of spaciousness
Make you feel better and elevate your mood just by looking at it!
Partner with a Pro
While the simple addition of art can make a room beautiful, creating a coherent space is not as simple as it seems when the project involves a distinctive piece or pieces. Your project will go much smoother when you partner with a pro. Your interior designer can work with your existing collection or help you acquire works of art. We are remarkably resourceful and can offer critical – often invaluable – insights to help you achieve your vision.
For clients with projects in Hawaiʻi, we tap our relationships with artists and galleries and create interiors that incorporate local and Hawaiian artwork. Our network also extends far beyond Hawaiʻi for clients looking for different styles of art.
Heartfelt Art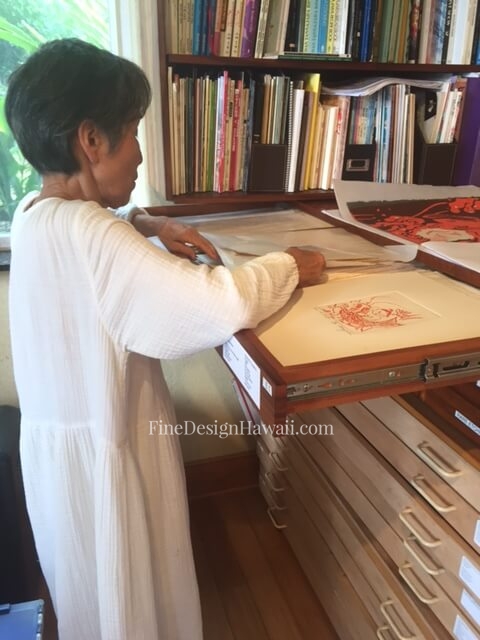 Throughout the years, Principal Designer Shirley Wagner has adored and collected the works of Mayumi Oda who is known as the "Matisse of Japan". Mayumi lives on Hawaiʻi Island and focuses on expressions of female beauty and spiritual themes. While she has always painted authentically, from the heart, and never for commercial appeal, her work has been widely exhibited and highly acclaimed.
Through my creative process, I have been creating myself. Goddesses are a projection of myself and who I want to be. Each picture represents a stage of my development, the influences I was feeling and events that were going on around me."

— Mayumi Oda, Artist
From 1969 to the present, Mayumi presented more than 50 solo shows internationally and has numerous private and permanent collections at the Museum of Modern Art, New York, the Museum of Fine Arts, Boston, The Library of Congress and more.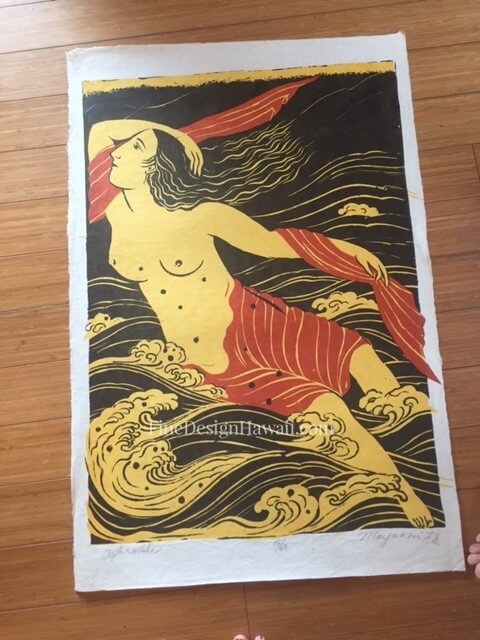 "Time spent with Mayumi is always so vibrant and inspiring. She is a treasure to the world!", says Shirley.