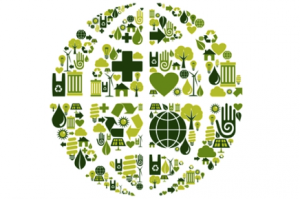 Basically it comes down to this: sustainable furnishings are made and distributed in ways that protect our planet…taking into consideration the impact on workers, communities, and the environment, as well as those living in the space (that's you!).

Sustainable furnishings do not contain formaldehydes, pesticides or other pollutants known to cause harm to people and the planet. Only products manufactured with high quality control and healthy, sustainable best practices are included, such as those created with reclaimed woods, water-based glues, pure natural latex, as well as organic cotton, linen, hemp and wool.
And while it might sound like the latest buzz phrase, the concept of sustainability has been around for a while.
According to the Sustainable Furnishings Council (SFC), the Bruntland Commission of the United Nations published this definition in 1983 – "Sustainability involves meeting the needs of the present without compromising the ability of future generations to meet their own needs."
Now that you know more, are you ready to consider sustainable furnishings? Here are a few more tips.
And, to make it even easier, just contact us — we can help you find and/or design something fabulous!